Training Courses
Justice Prince CIC offer a range of formal and informal learning opportunities all tailored to suit the needs and learning style of participants our bespoke methodology leads to increased confidence, self-belief and motivation which are the foundations for positive progression.
Justice Prince works in partnership with a range of organisations to provide seamless provision which has proven results. Through effective partnership working we provide the learner with a range of choice/options for progression alongside unbiased information, advice and guidance which overall provides the learners with an excellent experience and leads to a high proportion of learners positively progressing into full time education, training and employment.
Community Development Recognition Pilot Programme
Justice Prince is working in partnership with Sostenga to deliver a Community development recognition programme in North Tyneside.
10 local people who are actively engaged in development activities in Longbenton and East Howdon are participating in our new pilot programme, working towards gaining a national qualification in Community Development.
Recognition validates peoples learning, reflections from their community development practise – learning from experience. Recognition is based on the core values of Community Development and the skills and knowledge required to be an effective Community Development practitioner.
Horticulture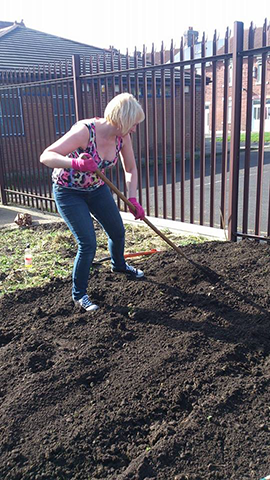 Justice Prince has steadily built an excellent reputation for its outstanding delivery of Horticultural training building upon its partnership with North Tyneside Council. Company director Stan Timmins leads on the training and has supported many learners to successfully complete a range of qualifications ranging from a Level 1 Award - Practical Skills in Horticulture up to a Level 2 Diploma, awarding body City & Guilds.
Many of our learners have multi-faceted complex needs including mental, physical and learning difficulties and disabilities. We offer taster-informal courses for those who lack confidence and have a deep rooted fear of formal education, often due to poor childhood experiences. The informal offer is incredibly successful as this really helps the individual develop their confidence and self-belief.