Local Conversation in Longbenton
News Updates
Project Update 2016
The latest update (November 2016) for the Local Conversation Project in Longbenton is now available for download in PDF format here.
Steering Group & Grant Panel Residential
Representatives from the Steering Group & Grant Panel participated in a residential training programme in March in Bellingham, Northumberland.
Celebrating Peoples Health Trust 5th Birthday at the Houses of Parliament
Justice Prince join People's Health Trust to celebrate their 5th birthday at the Houses of Parliament!
Read the press release in PDF format here.
Power 'with' the Local Conversation Network
Justice Prince participated in the UK wide Local Conversation Network meeting which took place in London in September. Partners from across the UK shared updates, challenges and achievements. Justice Prince delivered a workshop on Power; sharing some of the unique ways we work with local people to highlight power issues within communities, exploring meanings of power, feelings of being powerful and powerlessness and the implications of this for practise.
Collective Control in Communities
Local people reps from the Steering Group recently participated in 'Collective Control in Communities' event in Manchester sharing their knowledge and experience of Local Conversations Longbenton with other organisations and professionals from across the UK.
Residents of Longbenton estate take up the challenge of collective decision making and action to make their neighbourhood an even better place to live!
A wide range of new and exciting locally led activities are being developed as part of Local Conversation in Longbenton; a social action and empowerment initiative led by Justice Prince CIC.
Our role is to support local people to come together to control the design, development and delivery of local activities they believe will make their neighbourhood an even better place to live. - Karen Clark (Chief Executive Officer Justice Prince CIC)
The initiative is part of a new national programme funded by the Peoples Health Trust aimed at tackling health inequalities in new innovative ways.
Local Conversations is all about local control in decision making and action to improve quality of life. Local people are at the heart of the project and actively involved in decision making roles at every level including project design, delivery, management, recruitment, meetings and negotiation with service providers, monitoring and evaluation.
Justice Prince was one of the first organisations to be funded to deliver Local Conversations in the UK. Peoples Health Trust is in the process of rolling the programme out across the UK and aims to fund around 25 Local Conversations in total.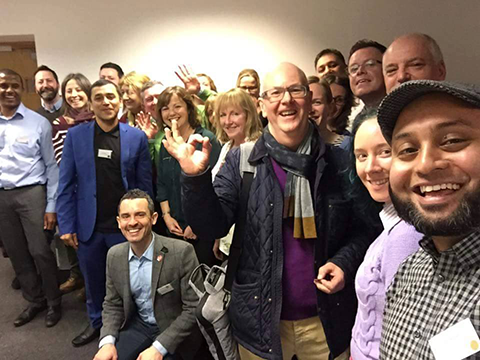 Justice Prince is part of a UK wide Local Conversation Network which meets every 6 months with Peoples Health Trust to share experience and learn from best practise. The overall programme is being externally evaluated by the New Economics Foundation.
A total of £440,000 has been awarded for the Local Conversation in Longbenton.
Phase one of the project was successfully delivered from March to July 2014 with 1,157 local people working collectively to identify issues of concern and agree priority actions to improve their neighbourhood. The agreed actions became the Longbenton Estate Area Plan.

For the full report on the Estate Are Plan, please download the Plan in PDF format.
Local Conversation Steering Group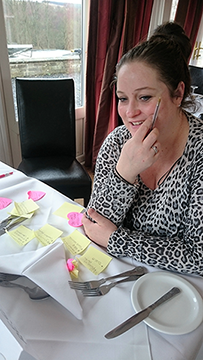 We are now in year three of delivering priority activities within the Area Plan. Significant progress is being made as local people have increased their confidence and actively engaged in taking control of decisions and actions at all levels of the programme including the Steering Group and Community Grant Panel.
The group meet monthly to monitor overall progress and review feedback from the wider community. This ensures activities remain relevant to local people and if necessary, enables change in direction or design at any point in the development process to meet community needs and interests.
We meet every month to just make sure things are going well and involve everybody. I think the good thing about this is that we really can change things ... if the community agree we should be doing other things then we can. - Terri Welch (Resident & Chairperson of Local Conversation Steering Group)
Steering Group members have participated in a number of capacity building workshops to support them in their active leadership roles e.g. roles and responsibilities, project review, monitoring, equalities and diversity and exploration of power.
Members also participated in a recent project evaluation workshop along with representatives from the Gateshead Local Conversation project. The workshop which took place at the Oxford Centre was facilitated by the New Economics Foundation; the organisation commissioned by Peoples Health trust to evaluate the Local Conversation programme across the whole of UK.
Community Grant Panel members have participated in varied capacity building workshops and increasing knowledge and understanding of their role as panel members. The Panel have now awarded four rounds of community grants supporting a wide and diverse range of community activities for all ages and sectors.
Other developments
Priority 1: Patchwork Garden Project
Longbenton Oscars
A touch of Hollywood in Longbenton! The network of Environmental Action teams (EATs) worked together to organise the Oscar event held at Longbenton Community Centre. 107 people participated in the event which was all about celebrating local people and their voluntary activities as part of the Local Conversation. We were delighted to welcome John Hume, Chief Executive of Peoples Health Trust who was quest speaker, David Jones, Director of Grant Programmes Peoples Health Trust, Elected Mayor Norma Redfearn, Patrick Melia, Chief Executive of North Tyneside Council, Wendy Burke, Director of Public Health North Tyneside.
Read the an article about this event in PDF format here.
Environmental Champions & Environmental Action Teams
Local people have been recruited and engaged in active leadership roles within their neighbourhoods as Environmental Champions (EC). EC are leading development of Environmental Action Groups (EATs) in localities across the estate. EATs are mechanisms to involve and connect people at a very local level.
Activities organised through EATs include:
Lutterworth EAT – 58 people participated in the community BBQ event held within the locality to engage local people in discussions about improving the green space between the flats.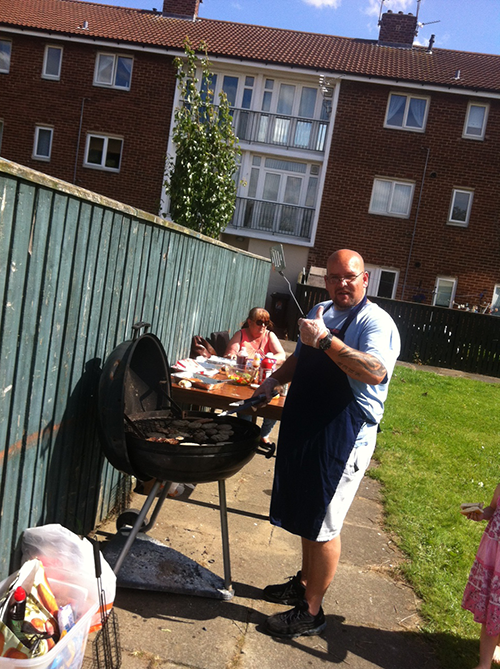 Charva/Hollington EAT - Halloween party event held at the Charnwood Pub. Engaged 122 local people in identifying key priorities for the Hollington area.
Queensbridge EAT – Picnic in the Park event was held and engaged 98 people in a planning for real activity to design a play area for toddlers and disabled children.
The EAT has got everyone in our area working together to improve the park/play area at Queensbridge. 98 people turned up to our picnic in the park event, we were all buzzing. - Nicola Mullen (Resident & Environmental Champion - Queesnbridge EAT).
At a recent celebration and review event held at the Oxford Centre local activists hosted a visit with Natalia Griffith, Grant Officer from The Peoples Health Trust, and met North Tyneside Elected Mayor Norma Redfearn.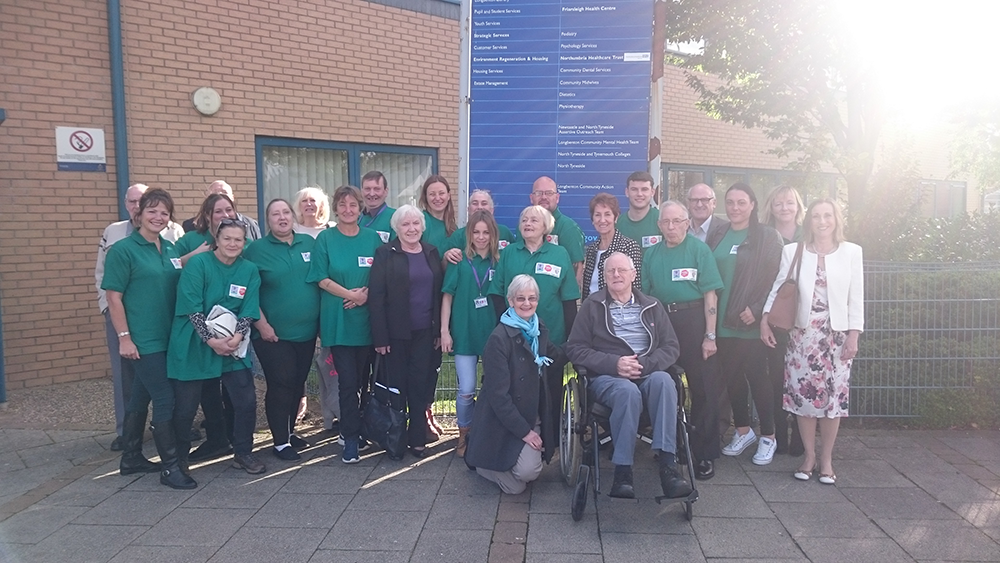 It was great to meet Natalia, and the Elected Mayor was just so amazing, really down to earth and interested in what we're doing, it's brilliant! - Jessica Huggins (Resident & Steering Group representative)

Environmental Support Team
Two young people have been recruited in apprentice roles to support delivery of the project; Horticultural Apprentice and Youth and Community Work Apprentice.
Varied support has been provided to vulnerable isolated people in the neighbourhood e.g. supporting people to maintain overgrown gardens, reducing isolation through engaging vulnerable people in activities and decision making, reducing stress through supporting people to retain tenancies.
Social Hub – Food, Fruit and Vegetables
A modular building is to be located on the community garden site in Longbenton. This will facilitate development of on-site training facilities and 'social hub' where people can come together sharing experiences and ideas and engage in development of new initiatives.
Priority 2: Isolated Older People
Development of appropriate activity programmes in sheltered housing supporting active involvement of participants in design and delivery e.g. exercise sessions with our fantastic volunteer Bob Carpenter, weekly outings and shopping trips.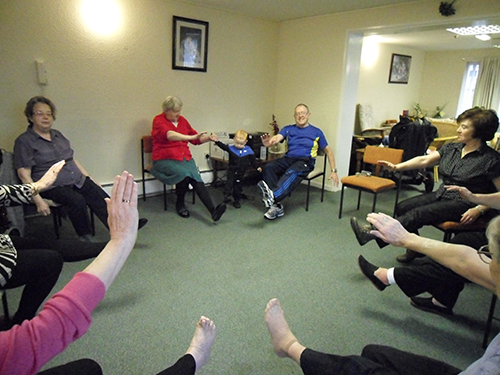 A range of social events has taken place in the wider neighbourhood including pie and pea suppers and sing-a-long evenings at the Innisfree Social Club. Older people are actively involved in decision making structures including the overall project Steering Group and Local Action Groups being set up across the estate.
I'm involved in all sorts of things; you just wouldn't believe what a difference this project has made to my life... I'm not a shy type as you know, I'm a chatty kind of fellow and like to talk to people, but honestly, I can't believe how many new people I've met since getting involved in this and there's always something going on... I tell everyone, every area should be doing this. - Gordon King (Resident and Steering Group representative)
Conversation Corner is an exciting new initiative that takes place on a weekly basis at the Oxford Centre. Local people meet for a nice cuppa and a chat about their neighbourhood and issues of interest.  Members have organised community lunch outings and participated in community trips. All members of the community welcome!
Priorities 3 & 4: More activities for families, children, disabled children, older people. Increased Community Cohesion
The Longbenton Estate Community Fund (LECF)
The LECF was identified as a mechanism to support a wide range of diverse activities to meet the needs of all sectors of the community.
Local people representatives were requested from key organisations based on the estate that provide services to people living in the target area of Longbenton Estate. To qualify to be a rep a person must live in the target area. Representatives come together to form the Longbenton Estate Community Fund Grant Panel. Panel reps participated in varied capacity building workshops to support understanding of roles and responsibilities and active engagement in designing the grant programme e.g. eligibility criteria, maximum level of grant award, application form and process. The panel's role is to assess applications against agreed criteria and make decisions on grant awards.
ROUND 4 – In March 2017 the Grant Panel of local people reps awarded 11 community grants to the value of £4,101.00 to fund a diverse range of community events and activities.
ROUND 3 – In December 2016 the Grant Panel awarded 9 community grants to the value of £4,160.78.
ROUND 2 – In July 2016 the Grant Panel awarded 9 community grants to the value of £4,177.69.
ROUND 1 – In December 2016 the grant Panel awarded 10 community grants to the value of £4,031.00.
In June 2016, nine local groups received funds of up to £200 each to support active participation in the Longbenton Community Carnival which took place in June 2016. The Carnival was a phenomenal success with over 300 local people participating on the day. Big thank you to North Tyneside Elected Mayor Norma Redfearn who officially opened the event and led the procession of carnival floats from the Oxford Centre to the Community Garden where the event took place.
It was so fantastic! The procession was a magnificent site – so many people - I felt so proud to be part of it. I got goose bumps and was nearly crying, it was so emotional! (Maureen – local resident)
Big thank you also to President of the Longbenton with Killingworth Rotary Club who had the difficult task of judging the carnival float competition. St Stephens RC Primary School were voted best float and won the £50.00 cash prize!
Funded by the Peoples Health Trust (with money raised by Health Respect through the Health Lottery: 51 Community Interest Companies raising money to address health inequalities across England, Scotland and Wales.